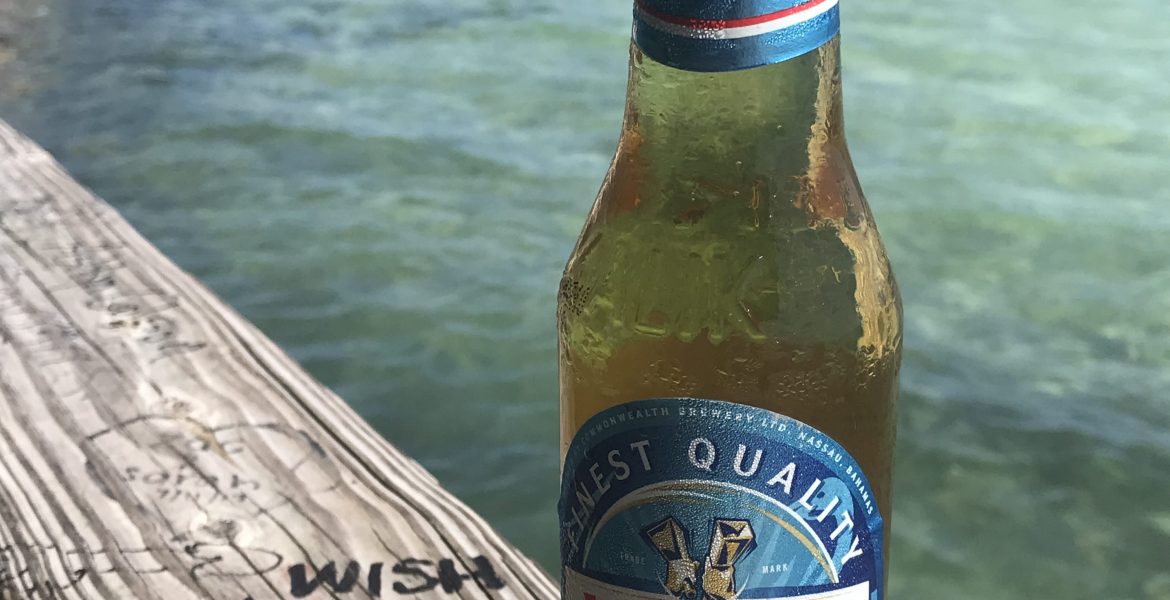 If there was any question about whether the Caribbean is thriving, look no further than Bimini in the Bahamas. Flying in on a seaplane from Ft. Lauderdale, I see the eight-point-eight-mile-long island full of lush greenery as I descend, surrounded by the bluest, clearest water I've ever laid eyes on. As the plane lands right on the water at Resorts World Bimini, and I climb out into the fresh air, the humidity hits me instantly. I begin to perspire, but the breeze cools me off quickly as I take a deep breath of the fresh air. I smile. I have arrived.
I immediately notice the smiles on the faces of everyone I meet. It's a pleasure getting checked into my room, which has the perfect view, and each staff member I pass says "Hello" and greets me with a warm smile. I'm liking this place already. Settling into my spacious room, I immediately step outside my balcony to eagerly take in a few more breaths of fresh air; it's addictive. My room is super comfy with two queen beds (and let's be honest, yes, I used them both!) a sitting area and, get this; motion lights!
Downstairs, the restaurant offers several dining options as well as the boutique casino. Our first night we dined at Sushi Bar, which seems pretty self-explanatory. However, the sushi boat that was prepared for us blew me away by the sheer size of it, but the selection is curated by "Top Chef" winner Hung Huynh. Everything is freshly prepared and certain rolls have been given a Bimini twist like the Son of a Beach Roll. Personally, I like Sashimi so I ordered Tuna, Salmon and Yellow Tail and it did not disappoint.
Fortunately, I'm awakened by the iced coffee I grab before heading out on day two, and I'm on my way to exploring this beautiful island. Being such a small island, it's easy to get around by bicycle. With the sun on my back and the breeze on my face, it's a beautiful ride that really reveals the beauty of the island and the people who live here.
I stop at Ansil Saunders' Boat Shop and listen to his stories of being the Guinness Book World Record holder for the largest Bone Fish ever caught by line. As he speaks I hear the water lapping against the shore and the steady click, click, click, as a neighbor tosses conch shells behind him into a large pile after redeeming the sweet meat inside. He's well-read, gregarious, and has a twinkle in his eye as he recalls taking Martin Luther King Jr. out to the mangroves to write his Union Workers Speech and eulogy. As I listen, I try to imagine what that must have been like, but I come up short. What an amazing life he has lived. Giving him a hug as I leave, my heart feels full.
Lunch and an ice-cold beer are in order. Stuarts Conch Stand boasts the freshest Conch Salad available and I'm eager to try it. The local beer, Kalik, goes down smoothly and I question its name. I'm told that it's named after the sound cows hooves make as they walk…kalik, kalik, kalik. As I'm enjoying my Kalik, I notice two men down on the dock, preparing the freshly caught conch, separating the "sludge" that is used for bait, and leaving only the clean conch meat. As Fabrice gets to work chopping up the fresh conch, onion, tomato, garlic salt and special seasonings, I get nervous. I'm used to ceviche, where the raw meat is marinated in lime juices for hours, but this is fresh. This is going to be a new experience, I know. Squeezing the fresh limes on top and adding a tiny bit of their homemade hot sauce, I give it a stir and take a bite. My mouth explodes with the flavors of the garlic and lime, mixed with the onion and the surprisingly delicate taste of the conch. I'm hooked. By the time I leave, I will have had conch salad for several of my meals. It's really that good.
Riding back to the hotel, I'm excited as I know I have an appointment at Serenity spa coming up. I get lucky as Kimberly, my massage therapist, nerds out with me as we discuss fascia, stretching and so much more as I am pampered beyond my dreams. Afterward, I spend some time in the steam room, feeling Bimini bliss. This is the life.
Taking my time after my massage to relax, visit the pool and check up on emails, I feel fantastic. I leisurely get ready for dinner at Luna Beach to dine by the ocean. The sun is just setting as I arrive and it creates the perfect backdrop for a wonderful evening of food, friends and fun conversation. The surf and turf with asparagus are cooked to perfection and the beach-waves soundtrack is hypnotic. I'm not a big fan of sugary desserts, so a few fresh berries for a sweet after-dinner treat were just right. However, if you do love desserts, they have some awesome- looking ones! I return to my temporary home with a smile on my face as my eyes close on another beautiful day.
I wake to the sound of rain in the middle of the night. It surprises me, as it rarely rains here. We are going snorkeling at the S.S. Sapona shipwreck today and I don't want it to be canceled. I return to slumber and awake hours later to sunny skies and plans unchanged. Perfect.
I'm eager to get on the boat. I love a good boat ride, especially when it picks up speed and the wind whips my hair around. We travel for what seems like forever, but who's counting because I have the sun, the sea and something to sip as I sing along in my head to the music playing. It's so gorgeous out and we navigate through a million different shades of blue water. I literally catch my breath as we begin to slow down and the S.S. Sapona comes into view. It's beaten and battered and rusty and old, but still beautiful. Gearing up and jumping in, the cold water shocks my system for a moment and I swim toward the ship, seeing all kinds of colorful fish along the outside of the hull. I even venture inside the shipwreck briefly, but the rain from earlier created some rough waves; so for my own safety, I made my way back to the outside, marveling at nature's beauty. I feel like the luckiest girl in the world.
Once we have our fill of snorkeling, we head to Honeymoon Harbour to feed the stingrays. I had no idea how big they got, and they know what we're here to do, because they surround me, bump into me and almost knock me down. They're hungry! I feed them bits of squid and they eat immediately, then search for more. I think they would have eaten all afternoon but there's only so much squid you can bring with you. We sit on the dock and eat lunch, watching the stingrays swim around the clear water.
Cruising back home, my thoughts wander and I'm so relaxed. There's really something magical here. My time is drawing to a close as the sun sets and I am filled with memories that will last a lifetime.