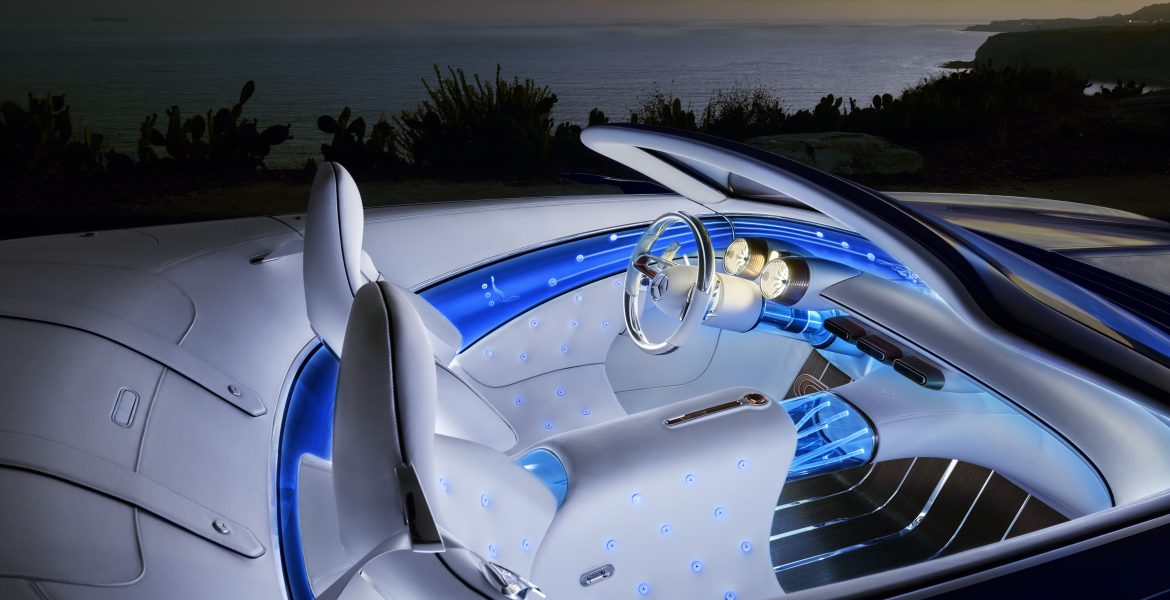 Sleek and sexy, the Mercedes-Maybach 6 coupe is designed to thrill. Her extremely long bonnet gives a retro feel, with the radiator grill and its fine vertical struts resembling pinstripes, an homage to aero coupes of past. Ready to spring into action, this luxury-class coupe can run with the best of them.
The interior is a cool white and blue and very open. "Our glamorous coupé, the Vision Mercedes-Maybach 6, represents the ultimate in contemporary luxury. It is hot and cool", states Gorden Wagener, Chief Design Officer Daimler AG. "With its intelligent appeal and reduced, technoid look, it perfectly embodies our design philosophy of sensual purity and our pursuit of aerodynamic efficiency."
The front windscreen serves as a transparent display: driving-related data and geographical information are shown across its full width, augmenting the outside world with additional information. This information can be controlled and adjusted by the occupants using gestures. The dashboard wing curves across the door trim into the seat landscape, creating a 360° lounge. In fact, you may feel that you're entertaining at the club or the hotel bar. But your host duties are limited: there is room for only two people. Not that either would be likely to complain.