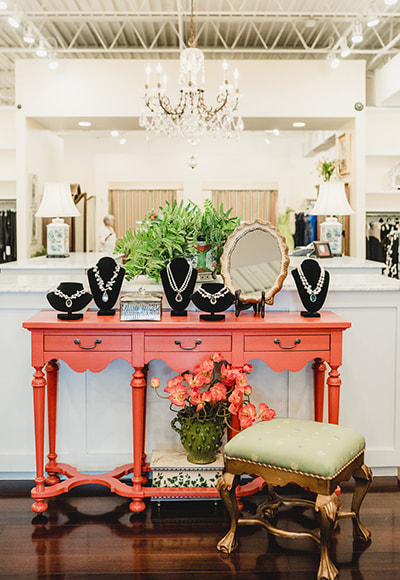 Sheer panic radiated from her face as she dashed into the store. Yes, she'd done the unthinkable. She arrived in Atlanta from another state to attend a charity ball that evening……it was now 4:30. However, still hanging around at home, was her carefully chosen gown……enough to make every woman panic!
To her rescue was Melody Pass, owner of the extraordinary Susan Lee shop in Buckhead. The talented staff rallied around the distressed damsel assessing her predicament, and in a single hour's time, they'd fitted her into a stunning tangerine gown. Now smiling and relieved, off she went to dress for the ball, grateful to the women at Susan Lee for their unequaled expertise.
Not many stores survive 20+ years. Especially in the fashion business. Intense customer loyalty. Unique collections and designs. Going the extra mile. Skilled staff. All accurate words to describe the fabulous boutique.
The late Susan Lee opened her Buckhead store in the 1990's, and in no time, she captured attention, built her customer base of faithful clientele happily finding distinctive and flawless attire. Her daughter, Melody Pass, began working with her mother following college graduation. They traveled to markets together, collaborated with designers and similar boutique owners from other southern cities, all the while increasing valued clients. Melody has since learned all aspects of the business and credits her accurate instincts with selecting just the right pieces. "I love going to New York, hand selecting the dresses, and then hearing a customer tell me the dress is just perfect"! Her husband and precious, active two-year old son keep Melody busy whenever she isn't in the store.
Melody has moved the store to a new location, however her mother's signature butter yellow walls, artwork, antiques and comfortable furnishings continue her legacy. Shoppers love the bright, spacious feeling while browsing selections from over 150 designers, all displayed by color. With more than 700 gowns to "ooh and aah" over, plus upscale casual clothing and sportswear, you're bound to find some new favorites as each item is selected especially for the southern buyer.
Mother-of-the-bride and gala gowns are their signature. Featured designers include local Atlanta designer Joseph Plata's sumptuous silk evening separates, Canadian Catherine Regehr does timeless classics, and Frascara sews with beautiful fabrics and is known for a great fit. Carol Peretz creates feminine and whimsical looks while Alex Teih does more of a fashion-forward, edgy look for contemporary buyers. Marisa Baratelli works magic with vibrant Thai silks; the German line, Talbot Runhof, provides runway silhouettes using simple lines; Italian Chiara Boni wows using innovative eco-friendly, stretch fabrics turned into novel designs.
The sophisticated casual selection is colorful, comfortable and travel-friendly. Tyler Boe, Joseph Ribkoff, Gretchen Scott, Comfy, and Symply are among the favorites. And, Melody's collection provide well-priced pieces giving women the confidence of wearing flattering, unique, and distinctive clothing they love. The ready-to-wear lines found at Susan Lee will not only make you happy, the pieces ensure the wearer to always be looking their best for whatever occasion.
Alas, Melody's favorite topic is her customers. She adores hearing their stories of just how ideal the gown or outfit was, the telling of the numerous compliments received, all the while seeing the joy radiate from her client's faces. So stop on in, peruse the collections while the experts dress you in your most becoming colors and perfect styles. You will float out of the store with a happy smile on your face!