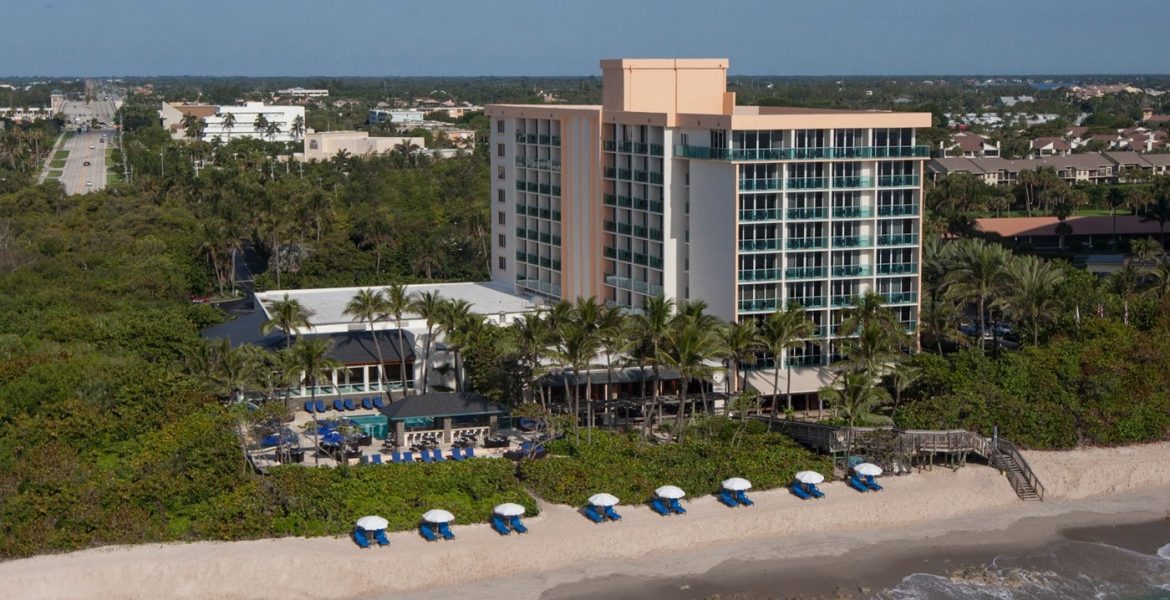 Looking for a great place to get away that isn't too far? Look no further than Jupiter Beach Resort & Spa – the only beachfront hotel in Jupiter, Florida, right on the Atlantic coast. With spacious rooms, elegant details and a relaxing atmosphere, Jupiter Beach & Spa Resort has thought of everything. Located in Palm Beach County, FL, this small coastal town is home to an ancient Spanish shipwreck, manatees, dolphins, sea turtles galore, and if you're lucky you might even spot a celebrity or two. Spend a few days here, and Jupiter will have your heart.
So, I have to tell you – if you're flying into West Palm Beach, do yourself a favor and hire a driver who knows the area like the back of their hand and skip the rental car. This way you get insider information, whether it's a favorite dinner at the resorts Sinclair's Restaurant, how to get to Jupiter Inlet Lighthouse, the perfect place for before-dinner drinks, and other fun and interesting information. My recommendation is RGB Transportation; they are incredible! There's nothing like riding with a local to get the scoop on everything Jupiter, and Roy and Grantley are up for the job.
While checking in, you'll receive wristbands instead of room keys – genius! This wristband will allow you to get into your room, check out towels, beach chairs, room service, meals in the restaurant, gift shop items, and you never have to worry about losing it. I don't know about you, but I'm forever misplacing room keys or carrying a bag or wallet that otherwise, I'd leave behind.
Settling into my room, I open the curtains and I can't believe the view. Facing the beach and ocean, hearing the waves, and watching the sunrise become some of my favorite experiences in my downtime. It's truly breathtaking. If you have never slept with your balcony doors open to hear the waves as you sleep, give it a try. That rhythmic crash of waves is soothing and provides white noise that so many of us rely on to sleep.
Up early for a day of activities? Take time for room service or breakfast at Sinclair's Ocean Grill right on the property. From health-conscious to decadent, Sinclair's delivers whatever your heart desires.
Once you're fueled up for the morning, you're ready for a day of adventure. Checking out the Loggerhead Marinelife Center and opt for the guided tour for an up-close way to check out native sea turtles, learn how plastics are so detrimental to their health and survival, and how you can help. I was shocked to see how much plastic they pulled out from under a dock in just a few hours. It opened my eyes to my plastic consumption. During the summer nesting season, the resort offers a Stay and Save the Sea Turtles package, and a turtle will be adopted in your name from a portion of your stay.
Mini golf, anyone? Lighthouse Cove Mini Golf takes mini golf to the next level with buckets of beer (or just one, if you prefer) to take with you along the 18 holes. With two courses, one more hill-filled than the other, you can choose your difficulty level. Don't forget to take a picture of your crew in front of the Paradise Falls course! It will serve as a memorable keepsake of the fun you had (and who won!)
After these fun and information filled stops, I'm ready to head back to Jupiter Beach Resort & Spa for lunch at The Sandbar, which is conveniently poolside with the beach just behind it. Roy picks me up to return to the resort and tells me about Michael Jordan's Restaurant, 1000° North (ok, he's only 1/12 owner, but it's known around town as his), and swings by it so I'll know where we'll go in the evening for cocktails.
Lunch and a little fun in the sun; how can I go wrong? I love a bacon cheeseburger, but The Sandbar offers so many options for drinks and food, your only problem will be what to order! The pool area is very relaxing and quiet, perfect for getting some sun, reading, or napping. Plus the beach is only a few steps away from the pool area. I did a little bit of everything.
There are several neat and interesting restaurants nearby. As suggested, we stop at 1000° North for pre-dinner cocktails. The space is warm, inviting, and opulently decorated. With so many handcrafted cocktails like the Smoky Paloma, Baked Manhattan, and other seasonal offerings, it really is a must to check out while in town.
For dinner, we move to Papichulo's for a family-style dinner of tacos, street food, and sweets. They also have a fun, eclectic selection of drinks; I chose The Gloria – a tequila drink with strawberry and jalapeno making it both spicy and sweet. For dinner, start with the street food selections. From yuka fries to taquitos, to street corn, your taste buds will thank you. Bonus: If you go on Taco Tuesday, your drinks will be half off.
Roy is ready and waiting once dinner is finished and escorts us back to the hotel. It's been a great day and I'm ready for sleep. The bed is undeniably comfortable and those waves work their magic on me once again as I drift off to sleep.
With morning, comes adventure. Palm Beach Dolphin Tours is a fun and educational way to cruise on the Intracoastal Waterway and search for dolphins, sea turtles, and manatees. It's exhilarating being on the water, and such a rush when you spot a dolphin or manatee.
Once the tour wraps up, you're just a short walk to Guanabana's for lunch. With a great view of the Intracoastal, the outside seating is beautiful, and outdoor fans keep a constant breeze flowing, which is certainly appreciated in the hot summer months. Feast on appetizers like steamed clams, opt for a fish taco or dive into the chicken nachos. With generous portions and amazing service, this is a place to return to again and again.
Back at the resort, it's time for maybe my favorite part; spa treatments. With facials, massages, skincare, body treatments, and salon offered at The Spa, it's difficult to choose, but I settle on a Swedish massage and it's heaven. Afterward, relax in the softly lit area and enjoy a snack and fruit-infused water. For those who love to be pampered as I do, the resort offers a spa package that includes $100 in spa credits per day. Next time, that's my plan.
Relaxed and happy, it's time to take a stroll on the beach to memorize its beauty, as today is my last day. The beach has always been soul-soothing to me, and this time maybe even more so.
We decide on dinner at the resort. Executive Chef Ricky Gopeesingh has certainly put time and effort into curating a memorable menu at Sinclairs Ocean Grill. He takes pride in his work and the results speak for themselves. The grilled octopus is delicate and flavorful, the grilled mahi-mahi with Moroccan couscous is packed with unexpected flavors with pineapple relish and vadouvan mango aioli, and if you're ready for steak, you can't beat the tenderloin that melts in your mouth. If your sweet tooth is calling, I can vouch for the Crème Brûlée, which is also house-made.
After dinner drinks are fun to have on the patio with fire pits and great conversation. Truthfully, the entire resort has a laid-back, relaxing feel, while still being trendy and unique.
As a drift off to sleep, my last thought was, "How soon can I come back?" It won't be long, as I told you, Jupiter now has my heart.
To contact RGB Transportation, call 561-891-1354, and tell Roy I sent you.