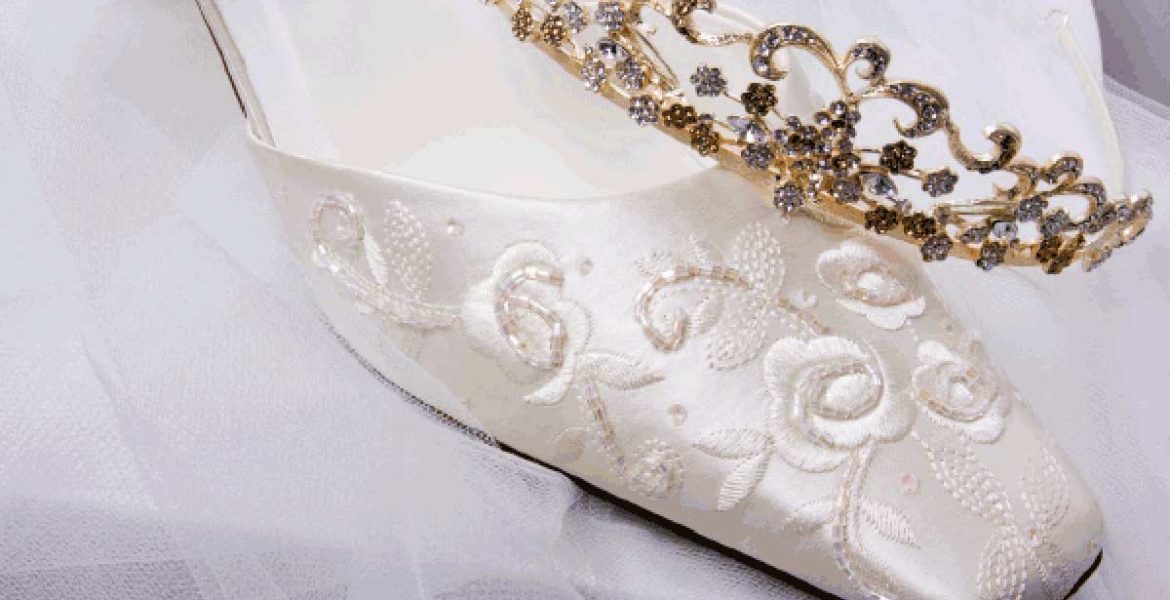 After the vows, hymns and presentations, the princess bride — in handcrafted silk duchess satin slippers with 542 hand-knotted, mother-of-pearl sequins, low-fluted heels, decoratively hand-carved suede soles, and a lace-and pearl-trimmed heart at the toe — stepped out into a sun-lit, adoring world.
Lady Diana Spencer's bridal gown designers, Elizabeth and David Emanuel, chose London shoe designer Clive Shilton to create her fairy-tale wedding slippers — completely handmade in the English tradition of royal brides with silks custom-dyed to match the dress.
Indeed, shoes and feet have an ancient and mystical lineage in the history of weddings. Shoe historian Cameron Kippen writes: "Mythology and folklore of many cultures link the foot and sex together." Consequently, since numerous wedding rituals are based on symbols of fertility, shoes appear often! "Throwing shoes after someone setting out on a journey was long thought to bring good fortune, so throwing a shoe at the bridal couple — with procreation such an important part of that union — was taken to wish them a fulfilling life together," the historian continued. The later custom of tying old shoes to the bridal carriage or car may be a variation on this one time good-luck practice.
"In accounts of wedding customs throughout ancient times," Kippen declares, "it was widely considered lucky to wear something borrowed. A common belief was that the bride would enjoy the same luck as the previous owner if the shoes of another happy bride were worn." (And the good-luck superstitions extended to the groom by wearing old boots loaned to him for his wedding.) There's a heritage of shoe rituals found in cultures around the world: "The ancient Inca Indians of Peru were not considered married until they exchanged sandals. In Northern Italy, the old custom was to have everyone try on the bride's shoe, just like Cinderella. In Hungary, the groom drank to his bride out of her wedding slipper. In Finland, the married couple was accompanied to the bridal suite by the whole family; the mother would not let the groom go to his bride until he had given her a pair of shoes. In China, the bride tossed her red shoes from the rooftop to ensure happiness for the couple." Many of today's stylish brides put as much attention on the selection of their shoes as they do on finding the perfect gown. Perhaps it's not simply to satisfy their fashionable palate, but also to follow some divination of ancient rituals promising good fortune — including dreams of being
a princess!
This summer marks the 20th anniversary of Princess Diana's death. Cornelia's book, The End of the Fairy-Tale Bride: For Better or Worse, How Princess Diana Rescued the Great White Wedding, is quoted in various worldwide commemorative publications honoring the princess. CorneliaPowell.com