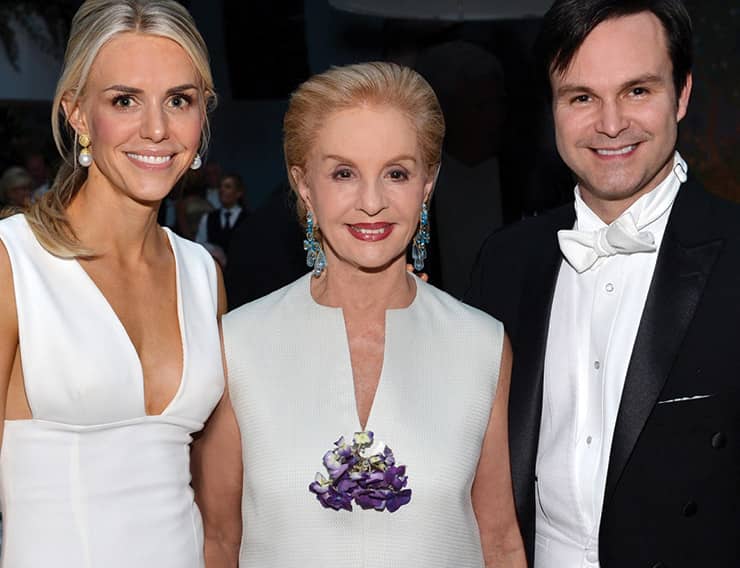 The 55th-annual Swan Ball took place Saturday, June 3, 2017, in The Swan Garden at Cheekwood in Nashville. The ever-glamorous Carolina Herrera was presented the prestigious Swan Award at the annual white-tie event.
The Swan Award has been presented annually since 1969, and is bestowed upon individuals distinguished in the arts or by their dedicated service to humanity.
The Swan Ball 2017 co-chairmen for the event were Mrs. Robert Edward Hull (Jody) and Mrs. John Alston Riddick (Amy Liz). Both chose to wear Carolina Herrera gowns purchased at Herrera's NYC Madison Avenue boutique. Dozens of women wore Herrera gowns in her honor. Each of the co-chairs accessorized their gowns with jewelry from Mish New York, the featured Swan Ball jeweler. Mrs. Jane Anderson Dudley (Jane), widow of former Ambassador to Denmark, Gilford Dudley, serves each year as the honorary chair; Dudley founded the Swan Ball in 1962. It is one of the nation's oldest and most successful white-tie events. The fundraising efforts of Swan Ball annually benefit Cheekwood, a nationally recognized destination renowned for its distinctive beauty, historical significance and excellence in art and horticulture.
A concert by multi-GRAMMY winner and Nashville resident Sheryl Crow and dancing into the wee hours to the sounds of The Heather Hayes Experience capped a very perfectly spectacular Swan Ball.
The guests were delighted to receive as their party gift designer Mark D. Sikes' New York Times bestselling book "Beautiful: AllAmerican Decorating and Timeless Style," from which the blueand-white design inspiration for the ball was taken