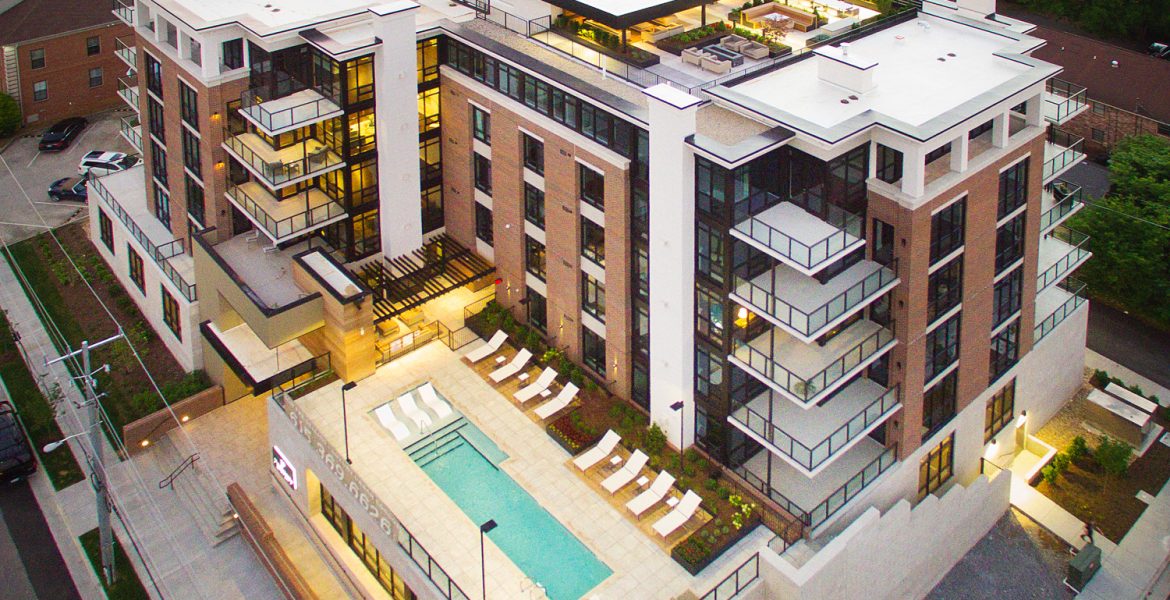 The term 'Crane Watch' has become synonymous with the Nashville real estate boom due to the large number of new construction projects seen in the
beautiful skyline. The 'it' city has become a hotbed of new places to work, play, live, and visit and developers are keeping up with the demand.
At one newly completed construction project, the crane has been taken down and the grand opening has recently taken place. It is the modern, spacious Poston at the Park and it is one of the newest condo projects in Nashville's West End
Corridor.
The luxury condos, featuring open floor plans and floor-to-ceiling windows are perfectly located within walking distance of beautiful Centennial Park where live music can be heard most weekends at the Musician's Corner. It is Music City after all. Vanderbilt University is just down the street and the Poston's Rooftop Terrace is the perfect place to tailgate prior to the games in front of the contemporary fireplace or just relax with a glass of wine while admiring the ever-changing downtown skyline.
Add the saltwater pool on the second floor of the condo project and the top-of-
the-line fitness center to the list of amenities at this cool, sleek condo
community and you get the best of the best on the West End.
In the model unit original art hangs from one of Nashville's finest galleries,
York and Friends Fine Art. The beautiful guest bedroom was curated by Peacock
Alley and the luxurious bedding for the master suite was provided by Bella Linea. In keeping with the modern design of the building, Z Galleries of the Mall at Green Hills provided the gold-and-silver tablescape and the case goods are from Mitchell Gold. Williams Sonoma accessories can be found in the open-plan kitchen that flows into the living areas.
One of the highlights of the model unit is the hand-done silver gilding in the hall ceiling done by artist Deb Staver formally of New York and now back in Nashville. Just a few steps down the way are many dining options, including Bricktops, Stoney River, Ted's Montana Grill, Maggie Moo's Ice Cream Shop, retail shopping, and a dog park. Hospital Corporation of America, UBS, and Caterpillar Financial Services, Walgreens and package stores are all in close proximity to The Poston at the Park, creating a beautiful blend of convenience and sense of neighborhood.
Marketed by Nashville's urban real estate firm Village, there are only 10 left in this 27-unit condo. The sister project, City Lights, will be completed in Fall 2018. It is located on Rutledge Hill overlooking the heart of downtown Nashville, the Cumberland River, and the Ascend Music Venue. It also has a very large crane that has been added to the Nashville 'Crane Watch,' bringing the total of Nashville cranes to over 200 cranes.