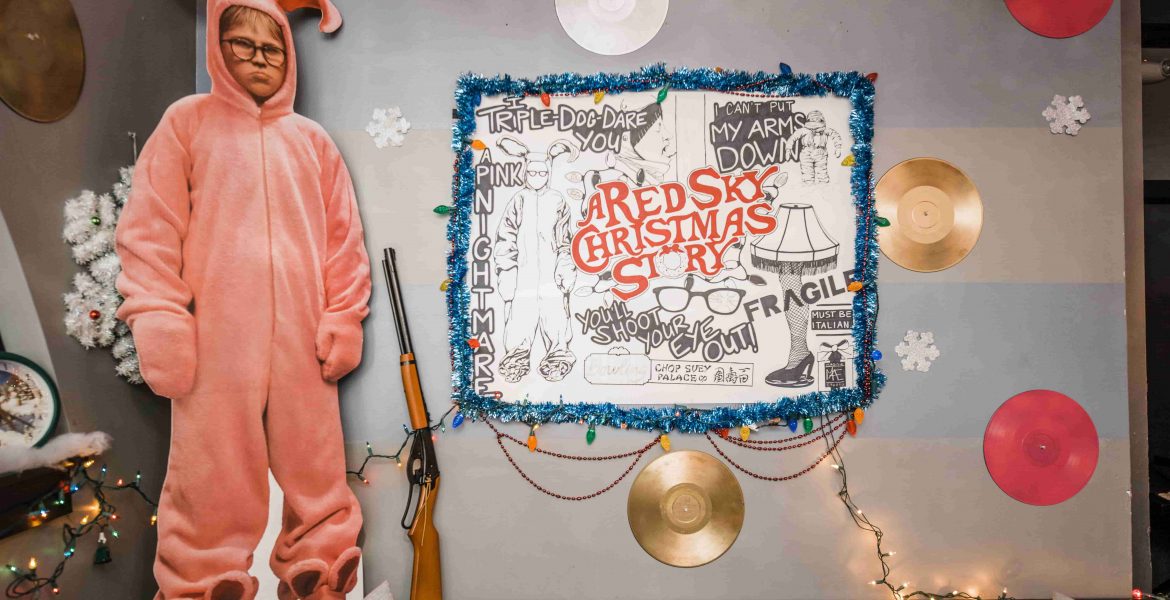 Red Sky Tapas & Bar, Marietta's premier restaurant for chef-driven tapas, dueling pianos, and local music, is reintroducing the successful holiday pop-up, inspired by A Christmas Story. Guests can expect the East Cobb restaurant to be covered floor to ceiling with festive décor. From the icicle covered patio space to the main dining area glowing with holiday warmth and an Instagram-worthy, kitschy photo room, each space will be uniquely decorated and yet will play into an over-the-top, cohesive vision as Red Sky offers the community a holiday story of its own. It's definitely worth the trip OTP!
Chef Brian Kennington will present a tapas and entrees menu inspired by traditional holiday dishes including Christmas Burger, an oven-roasted turkey burger with cornbread dressing, duck gravy, cranberry chutney, and parmesan green beans; Smoked Duck Breast with sweet red BBQ sauce and roasted Brussel sprouts; Turducken Egg Rolls filled with turkey, smoked duck, chicken, mashed potatoes, and drizzled with orange-ginger sauce; and more. The festive cocktail menu features Cranberry Mule, Shoot Your Eye Out Eggnog, Winterwonderland Martini, Malted Ovaltine Martini, and Christmas in a Glass. The holiday pop up will be set up until December 31, during regular business hours. "Our guests and our staff had so much fun with last year's holiday pop-up and we've been counting down the days to welcome back, A Christmas Story on Johnson Ferry," said Terry Kirby, proprietor of Red Sky Tapas & Bar. "We'll have our signature dueling pianos; a lineup of Atlanta's best, local musicians; Chef Kennington's holiday menu; and of course, over-the-top décor and fresh florals by Village Green Flowers & Gifts – it's going to be a holiday event you don't want to miss," added Kirby.
Red Sky is proud to partner with Village Green Flowers & Gifts in Smyrna, which will dress up the OTP holiday pop up with fresh florals including California greens, garland, white silk magnolias, and other holiday greens. Red Sky's interior and exterior space will completely transform into a tapas bar inspired by A Christmas Story. The transformation will include a winter wonderland patio space with snowflakes, snow globes, and warm, white lights; Instagrammable backdrops; Christmas trees adorned with ornaments; multi-colored string lights; oversized picture frames; themed props; holiday tunes on repeat; and maybe even a leg lamp (but nothing that will "shoot your eye out!").
For more information, visit redskytapas.com