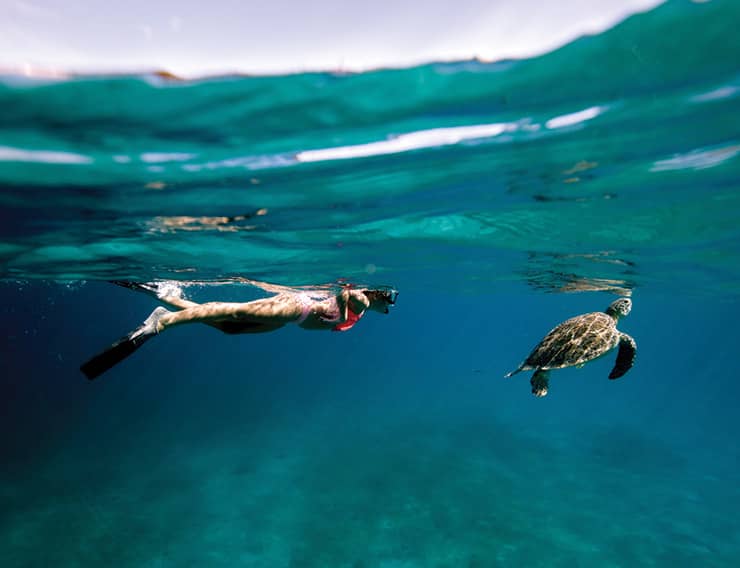 Celebrating the Centennial Celebration as an American territory, St. Thomas bustles with energy
Children in their pristine uniforms and military in their finest regalia make up the parade, marching, and singing, playing instruments and smiling to mark the occasion: 100 years as an American possession. Secret Service monitor the gathering as dignitaries speak on the how the United States and St. Thomas came to be as we listen in the sweltering heat, so quiet you could hear a pin drop. In the main city, Charlotte Amalie, tourists and citizens alike are eager to celebrate and the let festivities begin!
As the parade ends, our journey begins.
Arriving at Frenchman's Reef and Morning Star Marriott Beach Resort, (lovingly referred to as The Reef ) one thing is clear on arrival — the view is amazing. Perched atop a cliff, The Reef offers spectacular views of stately ships sailing in and out of the ports. What an amazing experience just to look out on the water from the balcony of your room. After all the celebrating on our day of arrival, dinner at The Sunset Grill sounds just about perfect. With fresh seafood choices and other tasty delights, you really could not ask for more. Well maybe live music — and they've got that covered, too. We were lucky enough to witness a marriage proposal as we ate, how special and romantic. As the night draws to a close, visions of snorkeling and touring this beautiful island dance in our heads as we drift off to dreamland in the comfort of our room.
Day Two
Let's go! It's time to tour the island and see all there is to see! There are so many places to visit, it was hard to narrow it down to just a handful, but we chose Drake's Seat, Beacon Point, and Magen's Bay Lookout.
Drake's Seat
What a sun-blistering view of the island and the water from Drake's Seat. Legend has it that this is the spot where 16th century explorer Sir Francis Drake kept watch over his fleet as well as a lookout for enemy ships. It's simply breathtaking to see where the Caribbean Sea and the Atlantic Ocean meet.
Beacon Point
Another great spot for picture taking. This stop is the perfect location to capture the red roofs of so many houses and the ocean in a singular Instagramworthy photo for the folks back home. The beauty here is so incredible and you can really see how lush the island is, despite how little rain it receives. Magen's Bay Lookout Another great photo-op, as Magen's Bay boasts a full mile of pristine white sand and the most complex blue colored water that looks like a painting. While we didn't get a chance to visit Magen's Bay, I'd suggest going if you have time and love playing in the water! After all this sightseeing, we had worked up an appetite and what better place to have lunch than a local hangout called Cuzzin's, in the historic district. Both locals and tourists flock to enjoy the Curried Conch, Peas and Rice and Fried Plantains. Go hungry as the portions are very generous! When we returned to "The Reef," we had ample time to enjoy the pool and the sun. There's nothing better than a little downtime to relax and enjoy the surroundings. And after an afternoon of cruising the island, we were grateful for the cool water!
After we freshened up for dinner, we took a ride to Grand Cru, a cute, open air restaurant right on the marina. We enjoyed fresh fish and veggies all while admiring the twinkling lights and yachts.
Once tucked into our beds, visions of snorkeling danced in our heads.
Day 3
Up bright an early, with a stop at Presto Market for breakfast (I kept it light since we'd be getting on a catamaran (Dramamine is your friend!) just after breakfast. Once we arrived at the dock, each of us grabbed a life vest, hopped on board and we were off. There is something magical about being on the water. The sound of the waves, the smell of the salty water and the sun on your face is heaven on earth, er, on sea. Once we arrived at St. John, on "The Cat," as the boat is fondly called, we anchored and got a lesson of what to look for and what to avoid –stay away from the mustard colored coral reef — it's called fire coral for a reason! The water was cool and clear, so seeing fish and coral was easy and amazing. But, I must admit, seeing three green sea turtles (two actually coming to the surface!) was the highlight of my afternoon. They are such lovely creatures and, oh, so graceful in the water.
The sun has a way of draining you, and I was feeling it once we returned to land, so lunch was in order. We dined at Coco Joes, which is right on the beach and offers casual fare from a nap and then explored the property and got some great images of sunset (and another view of a cruise ship leaving for the evening).
Dinner the last night at "The Reef" was at Havana Blue, and, boy, do they go all out. The restaurant is decked out in white and blue, giving it an ethereal feel that is inviting and sexy. We enjoyed award-winning fare rooted in Latin American/Caribbean fusion. With dishes ranging from Ceviche to PEI Mussels with Thai Basil and lemon crema to their famous Ancho Filet with an ancho chile and espresso rub to desserts like Guava Beignets and Strawberry "Tres Leches" Shortcake, the meal couldn't have been any better. A must!
After dinner, we changed clothes and hopped in underlit kayaks to see what we could see in the water at night. So maybe my kayaking skills aren't great, but we had fun seeing Sting Rays and Tarpons in the water, along with getting some history of the cove and storms that eroded the shoreline. A perfect evening to our night as well as our stay.